"The traditional drawing horse has been around for centuries and we all know Leonardo Da Vinci would have loved this old school bench with a new fold."
— Jon Swihart, Artist, Santa Monica, CA
The Folding Art Horse® is:
Patented • Comfortable • Sturdy & Durable • Lightweight • Space-saving • Transportable
Loved by artists, students, instructors and art event organizers
Each horse has a peg hole for wall hanging or can be stored in a 20" X 30" space when housed in the utilitarian Corral™ 10 horse cart on wheels.
If you believe drawing is a fundamental part of artistic development, you'll appreciate the attention to detail, quality, construction and Features of The Folding Art Horse® lineup.
Click these links for institutional purchases and volume discounts.
INTRODUCING the ALL NEW Horse Collar™ safety brace
Our team has been continually dedicated to refining and improving our products. With our latest addition, our already strong rear brace now features a safety mechanism we call a Horse Collar™. Once the brace is locked, gravity slides the collar down to cover the overlap of both pieces, restricting unintentional movement. Safer and more secure than ever before, the Folding Art Horse® continues to provide educators and artists with the ultimate space saving solution without compromising the fundamental features sought after for artistic development.
---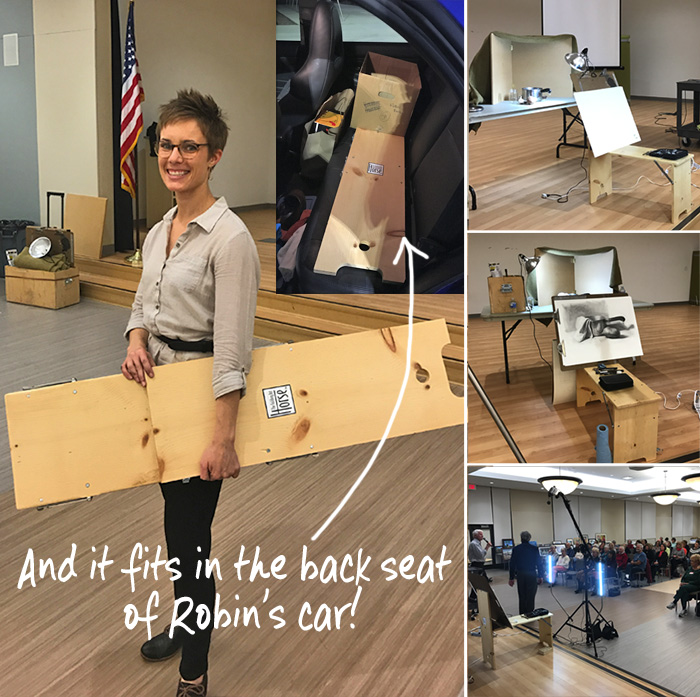 photos by Daniel Kee
Professional Testimonial (click here for more testimonies)
After years of improvised setups, dragging heavy institutional horses across parking lots and down long hallways, and building my own equipment, enter The Folding Art Horse! What an upgrade. I elected to purchase two, as I often teach individuals at my studio: one birch (for sturdiness) and one pine (for lugging around). I'm delighted with this 12 pound folding bit of masterful engineering. Sturdy, light, efficient, and pleasing to the eye. After using Eric's horses at the school where I teach, I felt totally confident debuting my trusty new steed at a drawing demonstration for a large audience the Huntington Art League, where I promptly received many inquiries as to its origin; many people recognize the value (and rarity) of a portable and well-built horse.
Despite being a standard size, the horse fits easily in the back seat of my small Subaru to travel to such events, or occasionally to the home of a student. I look forward to taking it on plein air trips, where it will replace my easel for drawing. Both horses now live in a slim, unused space next to some cabinets in my studio, where I can grab and unfold them anytime I feel like sketching.
Robin Smith, Artist/Instructor (find Robin and her student's work on Instagram)
Laguna Beach, CA
---
AVAILABLE NOW with Horseshoes™!
Now with the addition of our Horseshoe™ the base of our Folding Art Horses® is protected from splintering and chipping. The rubber foot provides an unmatched comfort for artists on all surfaces. Our Horseshoes™ have been designed to fit all previous models of The Folding Art Horse®, and the rubber foot is replaceable. Click here for more info.
---